There is a quote attributed to Eleanor Roosevelt that reads, "Do one thing everyday that scares you."
I don't do it everyday, but one thing I've done a lot this past year that scares me is teaching a children's choir. Getting up in front of people intimidates me, even (and sometimes especially) when they are kids. This past year I took a two semester course in vocal methods for organists and choral conductors, which taught me a lot about the workings of the adult voice and helped me to build my confidence in instructing choirs and leading choral warmups (which I've also learned this past year is the MOST important part of any choir rehearsal, professional or non).
Then this past spring I took a course in the basics of running a children's choir, which included learning about the child's voice, how to structure and lead choral warmups for children, and learning how to teach music education using the Kodaly method. The class also included workshops with conductors such as Melanie Malinka from the Choir School of the Madeleine Cathedral in Salt Lake City, and student teaching with the Notre Dame Children's Choir. Both were invaluable experiences! I also received some hands-on experience starting a children's choir at my own parish where I serve as the music director.
Two things I have learned about working with kids: #1) Don't baby them, don't talk down to them. Talk to kids the way you talk to adults. Even though they are far more honest than adults, they are usually far more forgiving. #2) Kids are musically capable of a lot more than adults think they are, and they will give it to you if you ask it of them. Yes, it will take time (months, even years), but they can sing Palestrina, Rheinberger, Gregorian chant -- real sacred music, if you ask it of them and you teach them well! They haven't had the complacency of mediocrity or self-doubt instilled in them yet.
My last final of the spring semester was for my children's choir course, and the final consisted in teaching a group of 7-8 year olds the difference between quarter notes and eighth notes). It was still intimidating and occasionally painful, and I'm still learning how to teach, how to be more confident as well as more demanding. But I have found that I love teaching music to children, and I am getting better with practice (funny how that works!). I hope to keep challenging myself and to keep improving as I get one step closer to my future parish chorister program! One step closer to teaching sacred music to the future of the church!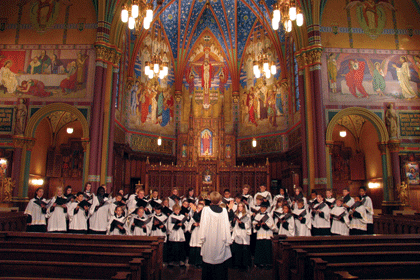 Choir School of the Madeleine Cathedral, Salt Lake City